HARI — needles and plump skin.
Make your skin visibly plumper, with needles.
ReFa HARI MAKE
Price

2 sheets x 1 pack
1,800 yen (excluding tax) / 1,980 yen (including tax)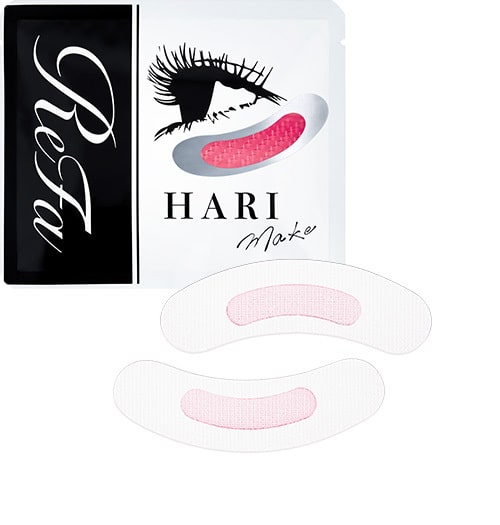 Let Carbonic Acid Microneedles help you get brighter, plumper eyes.
The 3 cm of skin under the eyes are prone to sunken skin and shadows.
In Carbonic Acid Microneedling, we've evolved a delivery system that helps you zero in on this area with patches that
thoroughly permeate1 beauty ingredients into the skin, making your eyes visibly plumper and brighter.
1: Down into the keratin layer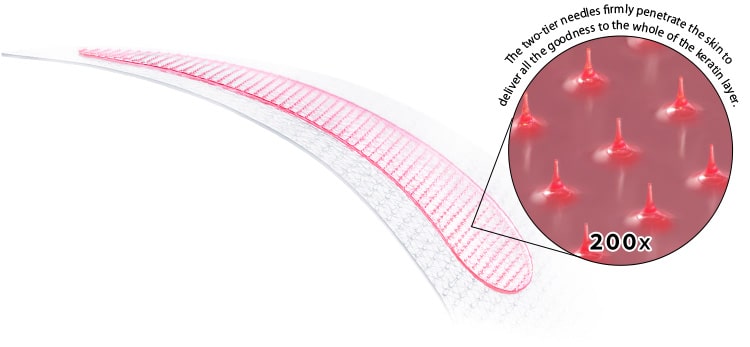 Those 3 cm under your eyes affect
how your whole face looks
No matter how beautiful your eye makeup is, noticeable under-eye problems will make your whole face look dull.
Caring for the problem-prone 3-cm area under the eyes will visibly brighten your whole face.
Use this when

You want to improve sunken skin around your eyes
Your can't get your eye makeup to look done to a T
Your face looks dull when you take off your mask
You don't have time to go to a spa
You have an important event
Penetrate, deliver, and moisturize.
Carbonic Acid Microneedles make sure all the goodness gets through1.
With microneedling technology, needles of crystalized hyaluronic acid puncture the keratin layer directly.
Carbonic Acid Microneedling is the result of combining this system with our own unique carbonic acid technology.
Hyaluronic acid2 — bio-fermented under strict control by a single manufacturer in Japan —
slowly dissolves in the keratin layer as carbonic acid is simultaneously generated within.
1: Down into the keratin layer
2: Sodium Hyaluronate (moisturizer)
The Carbonic Acid Microneedles penetrate the keratin layer directly, then the hyaluronic acid slowly starts to dissolve.

Carbonic acid is generated inside the keratin layer, and helps deliver a wealth of beauty ingredients throughout.

The hyaluronic acid holds in water and expands, moisturizing and plumping the skin.
Red needles packed with beauty ingredients.
The needles' reddish color comes from astaxanthin1, an anti-oxidant carotenoid.
They also contain an abundance of beauty ingredients, including vitamin C2 and placenta3.
1: Astaxanthin (skin conditioner)
2: 3-O-Ethyl Ascorbic Acid, Trisodium Ascorbyl Palmitate Phosphate (skin conditioners)
3: Placental Protein (skin conditioner)