Prevents water vapor explosion, even when used on wet hair.
When water vapor from wet hair explodes on contact with hot ironing plates, the hair cuticles are damaged in the process. The three-layer structure of the Carbon Layer Plates generates a steady, mild heat that prevents water vapor explosions and their damage to the hair.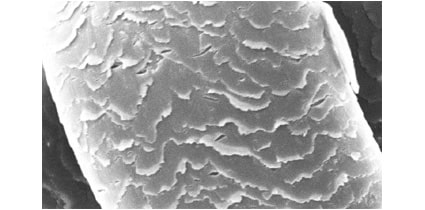 Hair with water vapor explosion1 damage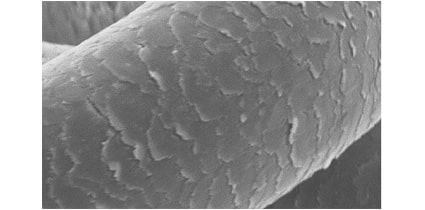 Hair with no water vapor explosion1 damage
1 Used on untreated hair (hair that has never been colored, permed or otherwise treated) after it was sprayed with water. The ReFa BEAUTECH STRAIGHT IRON was used with and without Carbon Layer Plates. In each case, it was used at the 180ºC setting 50 times (equivalent to about 10 days of use). After use, a cross-section of the hair was studied and analyzed with a scanning electron microscope.