Introducing the newest addition to the ReFa CAXA series. The ReFa 4 CAXA RAY is now available.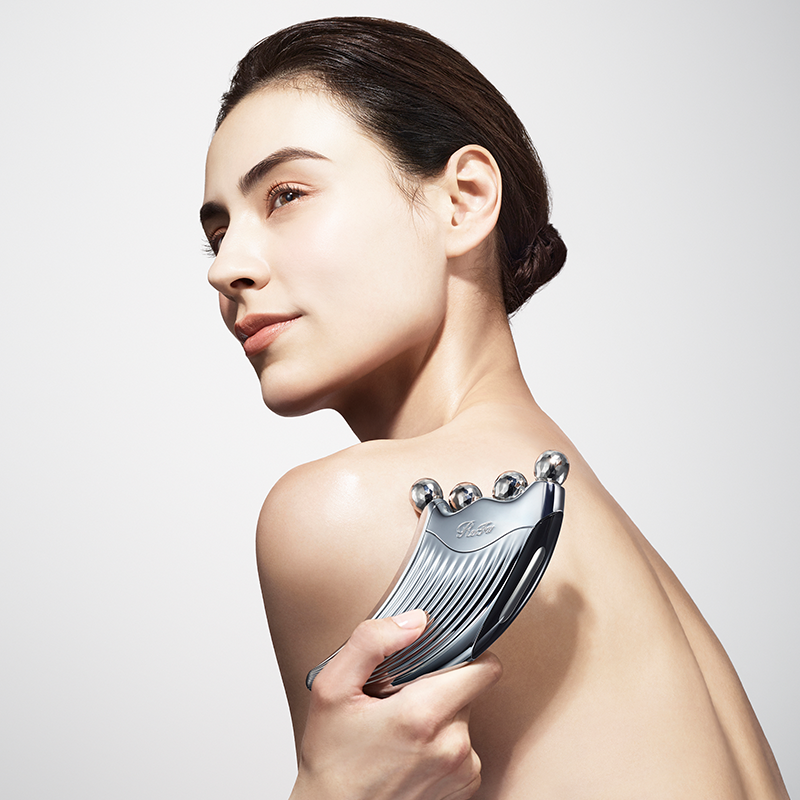 The ReFa 4 CAXA RAY replicates the professional scooping and kneading techniques of an esthetician with its revolutionary Release Lift1 technology for both the face and body. This groundbreaking beauty device launched June 19, 2019, and is available at department stores nationwide as well as at ReFa BOUTIQUE OMOTESANDO, ReFa SHOP HIBIYA Chanter, and our official online shop.
■Product Overview
Product name:ReFa 4 CAXA RAY
Release date: Jun 19, 2019
■Product Features
The contours of our faces and the tightness of our skin are determined by our fascia tissue as well as our facial muscles. ReFa's unique Release Lift1 is an ultra-efficient beauty care method that targets both of these facial components at once. Unlike our facial Release Lift beauty device the ReFa CAXA RAY, the ReFa 4 CAXA RAY is designed to provide Release Lift to the body as well as the face.
1) A deeper massage that targets wider surfaces of the skin.
The inner edge of the ReFa 4 CAXA RAY is the Crescent Line, which is precision engineered to apply a deep pressure to wider surfaces of the skin. By scooping widely and deeply, the ReFa 4 CAXA RAY can more effectively target the fascia of the face and body.
2) Four rollers draw in the skin from all angles for a deep kneading massage.
The four Quatro Drainage2 rollers of the ReFa 4 CAXA RAY are perfectly arranged to replicate the most effective kneading technique possible for both the face and body. The outer rollers pull in the thicker skin of the body for a deeper release while the inner rollers provide a gentle kneading massage.
1 Release Lift is a revolutionary scooping and kneading technique specific to the ReFa CAXA series that helps visibly reduce facial tension and puffiness while helping to promote sharper, more enhanced-looking features.
2 Drainage refers to a massage technique that estheticians often perform, and is not meant to imply any effect that the product has on the body.