Beauty Brand ReFa Turns 10 in February 2019.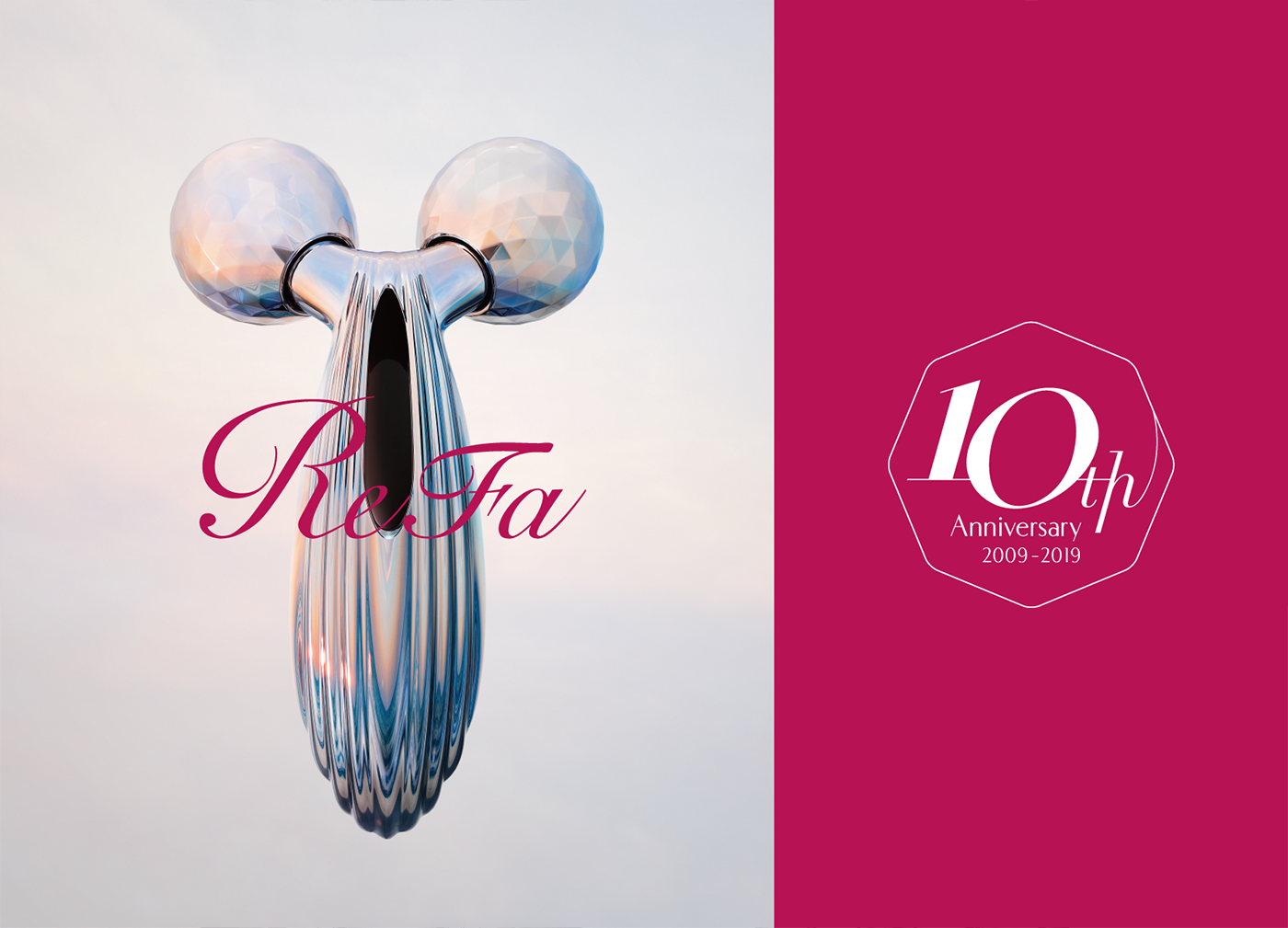 The global beauty brand ReFa is celebrating the 10th anniversary of its launch in February 2019. The brand would like to thank all of its supporters and customers over the past 10 years.
ReFa's journey began with a single beauty roller that replicated massage techniques used by estheticians.
Since then, the brand has been creating innovative products that combine beauty devices with skincare. Under the overarching brand vision of "Beauty Liberation," ReFa has endeavored to free beauty care from the confines of the vanity mirror by providing innovative solutions that can be used easily in any setting--at home, at work or on the go--to meet any and all beauty needs.
By the end of July 2018, a total of 10 million ReFa beauty devices* had been shipped since 2009.
To celebrate the 10th anniversary of the brand's launch, ReFa will be introducing several new products and organizing in-store events throughout 2019.
ReFa's First 10 Years
■Brand Development
2008: Development of the first ReFa roller begins.
2009: The first ReFa roller is released in February. Ms. Chikako Kaku is named brand ambassador in July.
2010: ReFa is a featured sponsor of the 52nd Annual GRAMMY® Awards Gift Lounge - a first for a Japanese brand.
■2010 - 2013: The Roller Series
November 2010: Release of the ReFa PRO, the ReFa O STYLE and the ReFa I STYLE.
April 2011: The ReFa series reaches one million units in cumulative sales.
February 2012: The ReFa CARAT is released, and wins the 2012 Good Design Award. It goes on to win a number of best cosmetics awards from various media outlets, including the beauty magazine Biteki.
■2013 - 2015: A Total Beauty Care Brand
June 2013: Release of ReFa EXPRESSION, ReFa's first skincare line, and the ReFa for BODY, the brand's first massage roller designed to target the hips, waist and thighs.
April 2014: Release of the ReFa S CARAT for use on smaller, more specific parts of the face.
■2016 - 2017: An Omni-Beauty Brand
November 2016: Release of ReFa CLEAR, a 3D Sonic Ion face cleansing brush, and the ReFa GRACE HEAD SPA, a pore-cleansing beauty device for the scalp.
August 2017: Release of ReFa COLLAGEN ENRICH, the brand's first collagen drink, which was co-developed with Fujifilm.
June 2017: The ReFa series reaches seven million units in cumulative sales.
■2018: A Global Beauty Brand
March 2017: ReFa's first standalone store outside of Japan opens in Shanghai's Metro City.
May 2018: The ReFa CAXA RAY is released, and the brand's approach to beauty evolves even further.
August 2018: The ReFa series reaches 10 million units in cumulative sales*.
■Products to Watch for in 2019
The ReFa CAXA M1 from the ReFa CAXA series in three pearlized colors.
Color versions of the ReFa CARAT RAY in violet, red and blue.
* Total number of ReFa beauty devices shipped between February 2009 and July 2018.