Introducing ReFa's first-ever shower head and hairbrush. Gently cleanse with beautifying fine bubbles for radiant-looking skin and hair.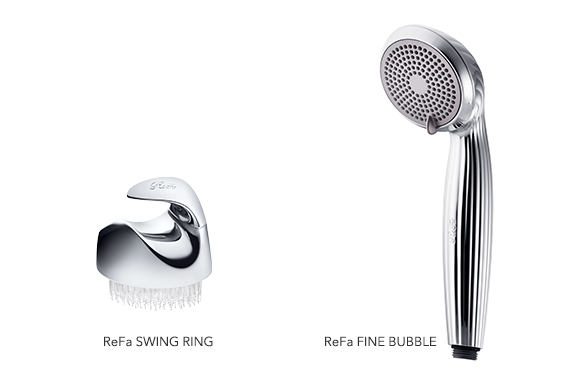 ReFa is proud to announce the launch of its first shower head, the ReFa FINE BUBBLE, and its first hairbrush, the ReFa SWING RING. Using fine bubble technology--a Japanese innovation that provides deep cleansing that's gentle on the hair and scalp--the ReFa FINE BUBBLE transforms bath time into a luxurious spa treatment. The unique ReFa SWING RING enables you to brush--and cleanse----your hair right down to the pores of your scalp. Both products will be available in ReFa BOUTIQUE and ReFa SHOP locations, the ReFa official online store, and department stores throughout Japan beginning Wednesday, August 22, 2018.
■The ReFa FINE BUBBLE
After spending years researching whether or not shower water is actually good for our skin, ReFa adopted fine bubble technology to create a shower head that removes impurities without putting any stress on the skin. Fine bubbles are about 100 times smaller than ordinary bubbles*. Hydrophobic interaction causes the bubbles to adhere to impurities in the pores and then bring them to the skin's surface, where they are removed. ReFa's original Spiral Cavitation Structure built into the shower head generates about 22,000 fine bubbles every 30 seconds, ensuring thorough cleansing of the skin right down to the pores. The shower head's benefits can be felt in the bath, as well. Submerging the ReFa FINE BUBBLE in the water will transform your bath into a milky white, silky microbubble bath that warms your body to the core.
■The ReFa SWING RING
Our scalps contain numerous oil glands, which produce impurities that can build up if left unchecked. The ReFa SWING RING is a hairbrush designed to cleanse these impurities from the pores of the scalp. Soft and flexible, the ultra-fine bristles ensure regular stimulation to the scalp--even when pressure is applied. Without damaging or drying out your scalp, they reach deep into the roots of your hair to gently remove impurities that your fingers can't reach. The ringed handle ensures a firm grip on the brush at all times, even with wet hands.
* Assuming the size of an ordinary bubble to be 3mm.
Product name: ReFa FINE BUBBLE
Released: August 1, 2018
URL: https://www.refa.net/en/item/refa_fine_bubble/
Product name: ReFa SWING RING
Released: August 1, 2018
URL: https://www.refa.net/en/item/refa_swing_ring/
Stores: https://www.refa.net/en/store/