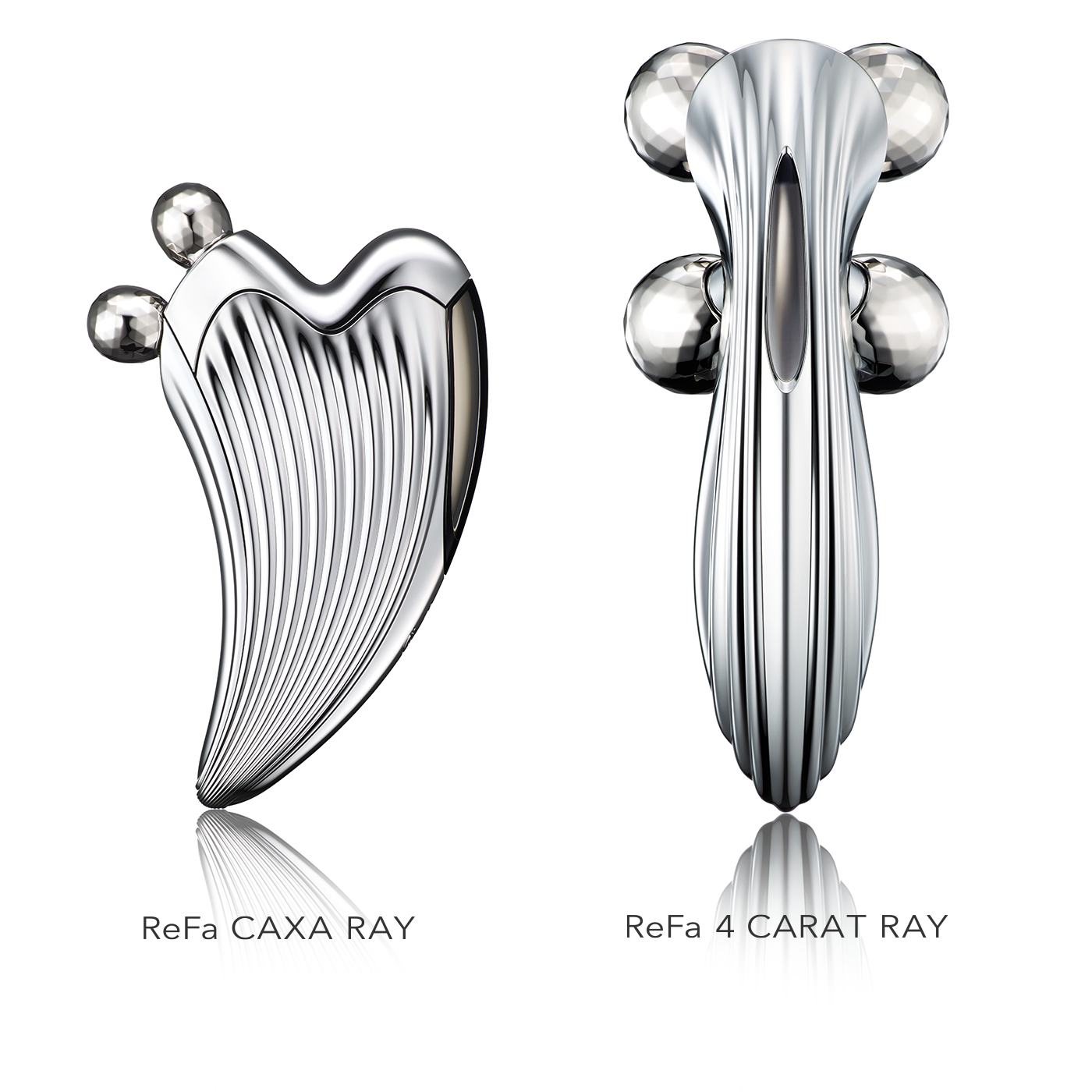 Release Lift*1 is a new scooping and kneading action that helps promote sharper, more enhanced-looking features.
On May 23, 2018, ReFa released ReFa CAXA RAY and ReFa 4 CARAT RAY in stores across Japan and on the official ReFa website.
■ReFa CAXA RAY
Release Lift*1 is a breakthrough scooping and kneading action that replicates the friction and kneading techniques of estheticians and helps promote sharper, more enhanced-looking features.
Thanks to years of 3D facial structure analysis, the Seagull Line and Crescent Line of the ReFa CAXA RAY are precisely engineered to fit every contour of your face. Together, they provide the scooping component of Release Lift.
The Double Drainage*2 rollers complete the Release Lift technique with their specialized kneading action, which helps visibly enhance and refine the contours of the face.
■ReFa 4 CARAT RAY
The four independent rollers equipped with a larger solar panel*3 are arranged at different angles to approximate the way that estheticians subtly change their hand motions to accommodate a particular body part or condition. This allows the ReFa 4 CARAT RAY to work three ways - vertically, laterally and superficially - to expertly grip and knead every contour of your body like the skilled hands of an esthetician.
*1 Release Lift is an original technique specific to the ReFa CAXA RAY.
*2 Drainage is a massage technique that estheticians often perform, and is not meant to express any effect that the product has on your body.
*3 Compared to ReFa 4 CARAT.

Product name: ReFa CAXA RAY
Released: May 23, 2018
URL:https://www.refa.net/en/item/refa_caxa_ray/
Product name: ReFa 4 CARAT RAY
Released: May 23, 2018
URL:https://www.refa.net/en/item/refa_4_carat_ray/