Keeping your skin balanced and leading to a beautiful, supple glow: ReFa MOISTURE SOAP CL and ReFa MOISTURE SERUM CL, on sale now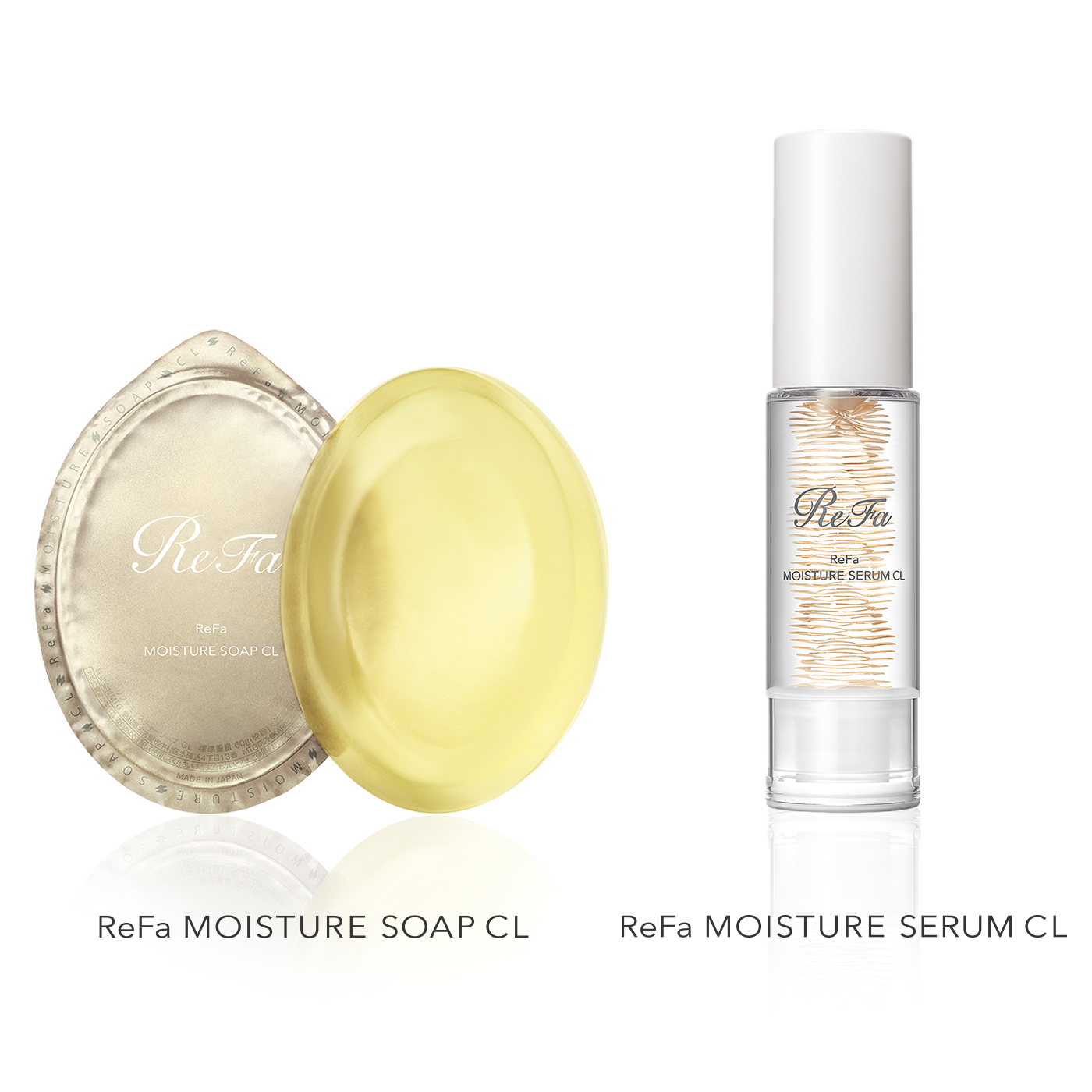 ReFa is launching 2 new products on Wednesday, February 14, 2018 as a new step toward ReFa's proposed collagen beauty: ReFa MOISTURE SOAP CL, which balances moisture and oil to lead your skin to a well-moisturized, clear and beautiful condition simply by washing your face, and ReFa MOISTURE SERUM CL, a serum that continues delivering collagen*1 to your skin *2 over a prolonged period to make it supple. Both products are going on sale at department stores nationwide and the official online shop.
■ReFa MOISTURE SOAP CL
Introducing a collagen soap that will lead your skin to clear, well-moisturized, radiant beauty, simply by washing--it moisturizes the horny cell layer with 5 types of collagen*3 that serve different functions. In addition to collagen, the soap contains other moisturizing ingredients that exist in the skin such as NMF*4 and ceramides*5. All you need to do is wash your face in direct contact with the collagen solution to reveal more radiant skin every time.
■ReFa MOISTURE SERUM CL
With 2 types of collagen complexes*1, Immediate and Lasting types, the serum immediately moisturizes your skin, then keeps the ideal balance of moisture and oil in your skin over a prolonged period as it continues to deliver*2 moisture.
Additionally, featuring spiral-up ingredients*6, the serum will help keep your skin taut and bouncy through routine use.
*1 Hydrolyzed Collagen, Myristoyl Succinoyl Atelocollagen, Soluble Collagen, Atelocollagen (moisturizing agents)
*2 To the horny cell layer
*3 Potassium Cocoyl Hydrolyzed Collagen, AMPD-Isostearoyl Hydrolyzed Collagen, Hydrolyzed Collagen PG-Propyl Methylsilanediol, Soluble Collagen, Succinoyl Atelocollagen, Hydrolyzed Collagen (moisturizing agents)
*4 Betaine, Sodium PCA, Sorbitol, Serine, Glycine, Glutamic Acid, Alanine, Arginine, Lysine, Threonine, Proline (moisturizing agents)
*5 Phytosteryl/Octyldodecyl Lauroyl Glutamate
*6 Trisodium Ascorbyl Palmitate Phosphate, Dipalmitoyl Hydroxyproline, Ascorbyl Tocopheryl Maleate (moisturizing agents)
Product name: ReFa MOISTURE SOAP CL
Volume: 60g
Released: February 14, 2018
URL:https://www.refa.net/en/item/refa_moisture_soap_cl/
Product name: ReFa MOISTURE SERUM CL
Volume: 30mL
Released: February 14, 2018
URL:https://www.refa.net/en/item/refa_moisture_serum_cl/